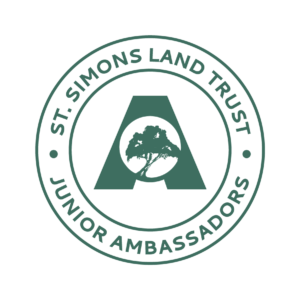 Calling all high school JUNIORS and SENIORS with a passion for land preservation on St. Simons! Applications are open for the Land Trust's first-ever 2022-2023 JUNIOR AMBASSADOR PROGRAM.
If you are interested in making a positive impact on St. Simons, promoting the mission of the Land Trust, and engaging with your local community, this program is for you!
Junior Ambassadors will work closely with Land Trust Ambassadors and Staff. You will serve as community ambassadors for the St. Simons Land Trust by spreading its mission while promoting civic leadership and responsibility among students to be good stewards of St. Simons. Junior Ambassadors may help with maintenance at various Land Trust properties, assist with office tasks, marketing, social media, and developing ideas to spread the SSLT mission to peers. You may also assist with Land Trust fundraisers, such as the annual Oyster Roast, Movie Night, First Friday, and more.
For more information, take a look at the SSLT Junior Ambassador Role and Responsibilities document. Applications, which are due September 23, can be downloaded below.
We hope you'll join us!