Nearly 100 St. Simons residents and visitors joined the Land Trust staff, board, ambassadors and volunteers for a first-ever Trail Run and Community Celebration at Guale Preserve on Saturday, November 9. Participants either biked to the event or caught one of the trolleys that were dropping off and picking up runners and guests from nearby Oglethorpe Elementary School's parking lot and delivering them to the Middle Road entrance at the Preserve.
What a morning it was! Attendees of all ages walked and ran Polly's Trail, enjoyed tasty treats, and learned about coastal Georgia's habitats, wildlife, history, and archaeology. The weather was perfect, and the joy was palpable! We are genuinely grateful to our sponsors and service providers who enabled us to celebrate this 258-acre preserve with so many families, runners, nature lovers, and special friends.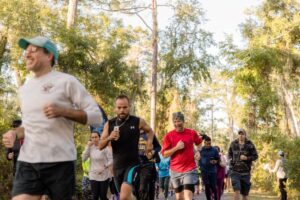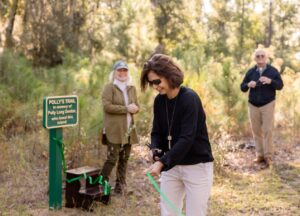 Dedication of Polly's Trail
This 1.5 mile trail is named in memory of Polly Long, who grew up in Atlanta and on the Georgia coast and who loved St. Simons. Polly's sister, Katie Long, and Katie's husband Adam Gelb, were both present at the ceremony along with Nicole Bagley, board member of the BRENN Foundation. It was the BRENN Foundation, comprised of members of the Bagley Family that has owned the Musgrove estate since the 1930's, that participated in the public/private, multi-year effort to acquire Guale Preserve. Following remarks from Nicole and Land Trust Executive Director Emily Ellison, Katie Long cut the ribbon that was stretched across the trail, officially opening up Polly's Trail to the community.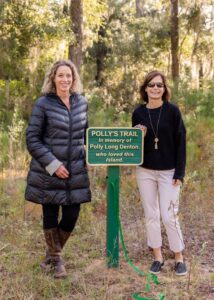 Thank you to all our sponsors and services for helping to make this event so memorable!
2019 PRESENTING SPONSOR:

EVENT SPONSORS:
SERVICES:
Oglethorpe Elementary
To learn more about Guale Preserve, click HERE.